Supported Online
Payment Methods
Now it is very easy to make payment to XeonBD using any Visa, Master and American Express Credit Cards.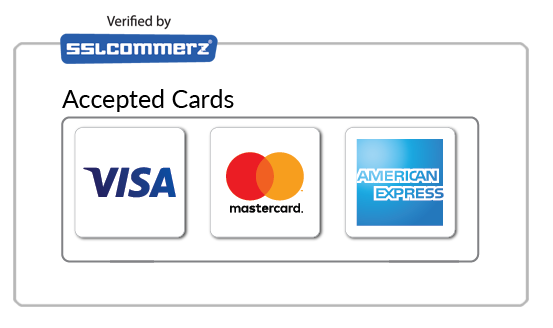 ---
Note: As you will make the payment using any of the above payment methods your XeonBD's invoice will be paid instantly upon successful payment on the payment gateway's website.
But if any how the payment proceeded successfully on the gateway provider's website but the invoice does not mark as paid on your XeonBD's account, nothing to worry about the matter. Just send us an email to [email protected] with your scan government issues ID card (e.g. National ID/Passport/Driving License/Student ID, etc.), a recent passport size photograph and proof of address (e.g. Utility Bill like Gass Bill, Electricity Bill, Mobile Phone Bill, etc.)
If you want to make a payment via PayPal, just choose the PayPal option during the checkout process. You can choose to make a one-time payment or a recurring payment (subscription) which creates an automatic payment subscription in your PayPal account.
Direct
Bank-in To our Banking account
You may also bank into our banking account at IFIC Bank Limited or Brac Bank Limited with the following information:
Please write your service name on the bank-in/transfer slip, then scan it and email to : [email protected] (sales).

IFIC Bank Limited Account Details:
Account Name: XeonBD
Account Number: 0170-1189-05001
Bank Name: IFIC Bank Limited
SWIFT Code: Swift: IFIC BD DH
Branch Location: Mohammadpur, Dhaka 1207, Bangladesh

Brac Bank Limited Account Details:
Account Name: XeonBD
Account Number: 1514-2009-7487-1001
Bank Name: Brac Bank Limited
SWIFT Code: Swift: BRAK BD DH
Branch Location: Shamoly, Mohammadpur, Dhaka 1207, Bangladesh

Important Note:
1. Send us the scan copy of your bank transaction at [email protected] by mentioning your invoice number, right after you made the transfer. As any wire transfer or bank transfer/deposit amount to the bank doesn't use to apply to the customer's account/invoice automatically. And without the transaction document, it is not possible for us to process the payment, and it might take up to 5-7 business days to complete the clearing process.

2. We strongly recommend our customer to pay the invoice as early as you can, for avoiding any kind of interrupted service. As in case of renewal if we don't get the information in time we'll not be able to renew your account/service on time, that may cause losing your account/service & XeonBD will not responsible for it.
If you've any query, please contact our Sales department by clicking here